The site is still back on http://rmcat13.tripod.com, but hopefully

not for too long. Really, really sorry about still no updates.

I will try to find the time to complete the picture galleries and

episode guides.

Have a good month.

Ruth,

Webmistress of HeavenlyCharmed

********************************************************************

Charmed has now finished showing on T4 on Channel 4, but as usual

is being repeated on LivingTV (now LIVING) every weekday.

********************************************************************
Site-
I have just created this page. It contains links to the pages Links, Affiliates, News, Layouts, Awards and History.
Site of the Month -
If you think your site is great, email me with the address and you might be put onto my sites of the month list. (please- I have had no volunteers- I'm having to look around for good sites)
Charmed Site of the Month

Pure Magic

A great Charmed site with loads of info and resources about the show. Very interactive and informative.

Visitors since November 2004:


When you are finished, please check out my other site,
A.P.O
. (the links are on my links page)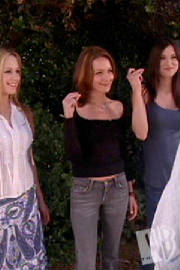 Season 7 finale- 'Something Wicca this Way Goes'